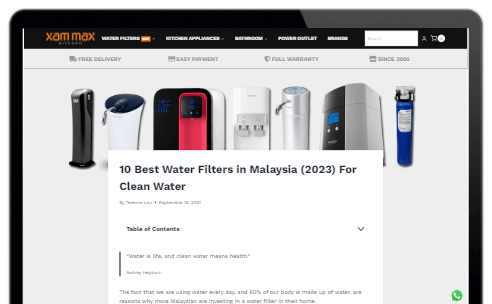 3M Malaysia Sees a 259% Increase in Organic Traffic
See how 3M Malaysia increased organic traffic by 259% with JinMatic Silver SEO Plan.
---
3M Malaysia Case Study
259%
Growth in organic traffic
700+
Organic keywords ranking
3 Target Audience
Covered with different languages optimization
---
The Overview
3M is a Fortune 500 company, with more than 60,000 products used in homes, businesses, and other industries around the world. They have earned multiple global acclaims which include World's Best Employers, Best Global Brands, and World's Most Ethical Companies.
The Challenge
3M is a leader in the water filtration system industry. In terms of SEO, the water filter market is very competitive. 3M Malaysia approached JinMatic, hoping to boost organic traffic and visibility on their B2C authorized distributor ecommerce site (xammax.my).
The Solution
The first step in improving 3M Malaysia SEO was to conduct keyword research. The team at JinMatic identified the most relevant and profitable keywords related to their business, such as "water filters", "water purifiers", "best water filter in Malaysia" and many more.
The next step was to create and optimize the website's content. We didn't just create a lengthy blog post and pray for traffic. We analyzed search intent and the types of content formats that Search Engines favour for particular keywords. After we created the article, we added images and videos to improve user engagement.
JinMatic team also improved the website's technical SEO, including improving site speed, optimizing URLs, and fixing broken links.
Within months, the organic traffic and revenue are growing consistently but we didn't stop there. After a quick discussion with the client, we identified new opportunities where we could target different audiences based on the Malay and Chinese languages.
With a similar approach but careful customization, we created 2 new landing pages for each language and rank for keywords like "penapis air", "penapis air terbaik", "净水器", "马来西亚净水机排名", "滤水器" and many more.
The Results
The website traffic increased by 259% with more than 700 keywords ranked on top of Google. The best part about our SEO strategy is that the content is well-designed with sales conversion in mind. In other words, we not only improved the client's organic traffic but also revenue.
---
xxxxxx
Get a Quick Diagnosis
We will be upfront if our SEO services are beneficial to your business (or not). No hard-selling. No bullshit.
While the diagnosis is free, please note our SEO services average RM3,000/month and is for brands with a budget to spend on SEO campaign. If you have a budgetary constraint, check out our JinMatic Jumpstart or JinMatic SEO Audit one-time fee services.