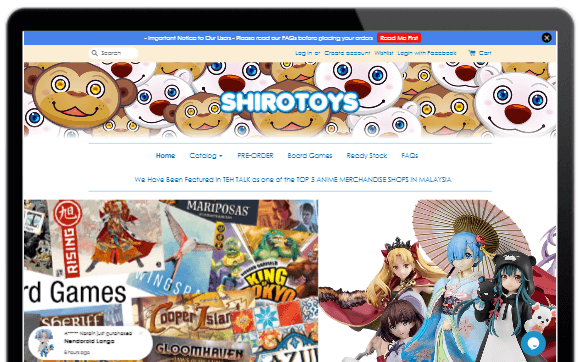 Shirotoys Increases Organic Traffic by 1283%
Find out how Shirotoys achieved 1283% organic visitors increase with JinMatic Bronze SEO Plan.
---
Shirotoys Case Study
1283%
Growth in organic traffic over 24 month period
58
Keywords ranking in the top 10
20+
Technical issues fixed
---
The Overview
Shirotoys is an online retailer of anime figures and collectables. Some of their key products include board games, Figma, Nendoroid, and puzzles.
The Challenge
Shirotoys had been in the business for a while and had established a loyal customer base. However, they were facing stiff competition from other anime figures' stores and were struggling to increase their organic traffic and sales.
The Solution
Our team of SEO experts analyzed Shirotoys's website shirotoys.com and identified several areas for improvement. Here are some of the key steps we took to boost their organic traffic and sales:
Conducted extensive keyword research: We used various methods to identify the most relevant and high-traffic keywords related to the client's products. This helped us understand the search intent of the users and create content that meets their needs.
Optimized website content: We optimized the website's meta titles and descriptions, headings, and image alt tags with the target keywords to make it more search engine friendly. We also added relevant content to category and product pages, making sure it was keyword-rich and informative.
Improved website structure: We made changes to the website's structure to make it more user-friendly and easy to navigate. This included improving internal linking and creating a clear hierarchy of pages.
Built high-quality backlinks: We focused on building high-quality backlinks from authoritative websites in the same niche. This helped improve Shirotoys's domain authority and search engine rankings.
The Results
Our SEO strategies helped Shirotoy's achieve significant results in a few months. Here are some of the key results:
Increased organic traffic by 1283%.
Improved search engine rankings for target keywords.
58 keywords rankings in the top 10.
Improved website engagement and user experience.
---
xxxxxx
Get a Quick Diagnosis
We will be upfront if our SEO services are beneficial to your business (or not). No hard-selling. No bullshit.
While the diagnosis is free, please note our SEO services average RM3,000/month and is for brands with a budget to spend on SEO campaign. If you have a budgetary constraint, check out our JinMatic Jumpstart or JinMatic SEO Audit one-time fee services.